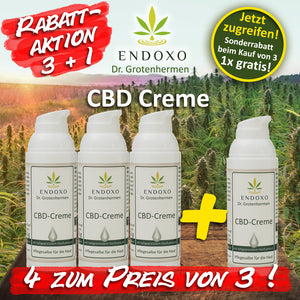 Set with 4x50g CBD cream
So only 14.93 € per jar !!!
Content: 4x50g
ENDOXO Dr. Grotenhermen CBD cream is a care ointment for the skin based on a base cream according to the German Medicines Codex (DAC).
Gently cold-pressed hemp seed oil and hemp leaf extract from hand-picked raw materials provide additional care components. This recipe makes ENDOXO CBD cream ideal for daily use.
Ingredients:
Aqua (Water), Petrolatum, Propylene Glycol, Cannabis Sativa Seed Oil, Caprylic / - Capric Triglyceride, PEG-20 Glyceryl Stearate, Cetyl Alcohol, Glyceryl Stearate, Cannabis Sativa Leaf Extract