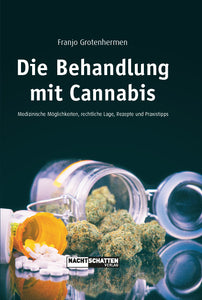 Books only in german!
Medical options, legal situation, prescriptions, practical tips
This book offers comprehensive, practical information and helpful tips on the therapeutic use of cannabis and individual cannabinoids on the basis of the current legal situation.
It deals with medical topics such as areas of application, dosage, side effects, as well as additional aspects that can play a role in therapy with cannabis products. These include the assumption of costs by the health insurance companies, cannabis and driver's license, the optimal use by means of inhalation and oral intake, dealing with possible concerns of doctors, cultivation and storage of cannabis.
Thanks to his many years of practical experience and his extensive knowledge of the scientific literature, the author deals with all topics with great
Expertise and attention to the essentials. The result is a compact guide, indispensable for anyone looking for a practice-oriented one
Looking for an introduction to the complex subject.
 The new edition of the classic - updated and expanded!

>> It is undisputed that cannabis has a healing effect on certain ailments. Franjo Grotenhermen deals with the diverse uses of cannabis products, their correct use and dosage, and provides information on important legal aspects. <<
Book journal 02/2019

Year of publication: 2019
revised new edition
ISBN: 978-3-03788-579-6
128 pages, format 14.8x21 cm
Hardcover