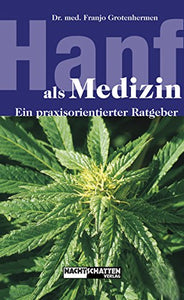 Books only in german !
A practice-oriented guide
The standard work by cannabis expert Dr. Franjo Grotenhermen provides comprehensive and easily understandable information about the possibilities of treatment with cannabis and the cannabis active ingredient dronabinol. Areas of application, side effects, dosages and possible interactions with other drugs are presented and explained in detail. The book also contains many valuable tips from the author's many years of practical work.
"The easily understandable book, based on the latest knowledge, makes a very important contribution to the necessary remedicalization and destigmatization of cannabis products. The clearly structured catalog of indications, impressive patient reports and valuable application instructions are intended to help the patient to use them critically and correctly on the one hand, and to help medical staff learn the enormous therapeutic value on the other Documenting the potential of cannabinoids and bringing them closer. " (Professor Dr. Rudolf Brenneisen, University of Bern)
Year of publication: 2017
ISBN: 978-3-03788-285-6
216 pages, format 13.5x22 cm